Don't Allow Delays, it's Costly
You would want to sell your house as quickly as possible; you know that. But as homeowners, sometimes it's so hard for us to find the right buyer with the right price. And you have to race against time as you are trying to deal with problems such as increasing loans or foreclosure notices that stays with you until you sold the house. We understand what you're going through. And so, we try to make everything easier for you.
We don't want you to suffer from the irreversible consequences of having your house foreclosed. In the state of New Jersey, other than losing your home, a foreclosure record in your name can also affect your credit score for the next seven years. When you try to apply for a loan or credit card, you will be automatically denied because of your foreclosure record. Not only that, you are also not able to buy another house in Elizabeth for the next five years. The effects are long-term and irreversible. So you have to make sure that you don't suffer that, and we are here to help you avoid foreclosure .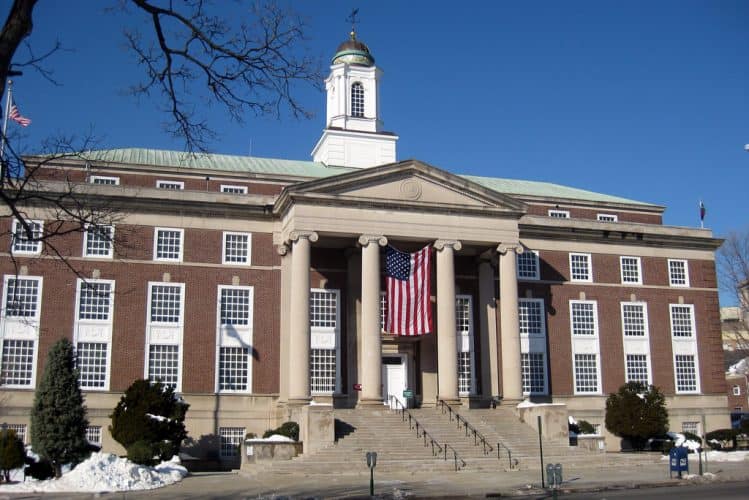 We Want to Help You
We created this business to help homeowners in Elizabeth like you who would want to sell your house as quickly as possible. We provide solutions that will help ease up the process of selling your house and provide you with cash in hand that you can use immediately for whatever reason you're selling your house.
Learn more about our services and how we can make your life easier in the state of New Jersey. Just complete our consultation form or give us a call at (866)-350-6769, and one of our experts will be right with you to guide you and discuss your options in selling your house. If you leave your contact information with us, our friendly experts will be contacting you within 24 hours and we will be able to find a solution for you in just a matter of days. So hurry up and contact us now!
If you are dealing with any of the following situations, we can help you!
Inherited a property you are not interested in keeping.
Need to relocate as soon as possible.
Not interested in paying any real estate fees or commissions.
Own a distressed property that you are unable to deal with.
Own a vacant house and can't afford to keep paying the property taxes.
Foreclosure in Elizabeth
Dealing with troublesome tenants.
Divorce.
Need a bigger or a smaller house.
Looking for a Quick Cash Sale?
Quick and cash don't usually go together without a catch, but if you have worked with us then you will no — there is no catch.
We Are Top Elizabeth Home Buyers
We found out that the top reason why some people are daunted by the task of selling their home is that they do not have the time. We have the time, and we can process the sale of your home as fast as humanly possible. Our years of expertise and connections allow us to understand what documents are needed when they are needed, and when is the best time to process your transactions. We believe that selling a home shouldn't be mentally tasking to homeowners. We are the top home buyers in the market because we make it simple and fast. Call us today.
Can't Wait any Longer in Selling Your House in Elizabeth?
Publish an MLS Listing
Wait for potential buyers
Under go price negotiation with the buyer
Wait for the house's inspection reports
Repair any violations as a result of the report
Wait for the estoppel letter and title search
Wait for the bank's financing approval
Get a closing date scheduled after talking with the title company
Work out any unexpected scenarios that might come up on or before the closing date
It can take weeks, months and sometimes even years before you are able to sell your house. This is the area where we can assist you. We will buy your house directly, eliminating commission expenses that you will have to pay to a realtor . You will be able to avoid paying expensive repair bills as we will be buying your house As-Is. This is on a cash basis meaning you don't have to go and wait for the bank. Homeowners across the United States come to us so the we can buy their properties fast. Here are the most common reasons as to why homeowners come to us.
Moving Out? Sell Your Home
Do not leave your home exposed. If you are moving out of state or out of the country and with no prospect of returning soon then it is time to sell your home. Understand the risk that your home will be exposed. Not only to nature, but also to people who have no qualm over destroying things just for the fun of it. Leave your home with a peace of mind by selling it before you move out of Elizabeth. We will help you get it processed as quickly as possible even before you move out.
Looking to Sell Your Elizabeth Home Quick?
If you have already decided to sell your Elizabeth house fast, then look no further. We understand that it is never easy to let go of something that you have worked hard for. Be it due to having emotional attachments towards it or just plain sentimental reasons. Letting go is really hard to do. However sometimes life doesn't give us any other choice. Some of the reasons that we would need to do this includes:
Going through the process of selling your house can sometimes be stressful and painful but bare in mind that more and more homeowners across the country are finding themselves in the exact same situation as you are. You are not the only one who is making this decision. Call us. We have helped countless of homeowners who are in need of selling their house fast.
How can you sell your house quickly in Elizabeth ?
Your home is a place that holds so many good memories of you and your family together. It could be where you had your first baby, where you celebrated anniversaries, and other important occasions. It could be where you built and grew your family. That's not easy to let go, and we understand. However, difficult times will sometimes call for difficult decisions – like selling your home.
Do you need to sell your Elizabeth house fast? We will help you. We will buy your house, no matter what condition it is in or how much the equity. We've bought houses all around New Jersey. Contact us right away so we can help you in no time!
The state of New Jersey…
The State of New Jersey has a growing population currently standing at 8,958,013 people. Selling your house is the perfect opportunity for you right now.
People in New Jersey have been selling there home since its received statehood in 1787.
The capital of New Jersey is currently in Trenton, where the lawmakers are always trying to pass new laws in congress to save you money on your taxes when you sell your home.
People have been selling there home here since 1784. When Trenton has been the capital of New Jersey Since 1784.
There are so many houses in New Jersey for sale. The size of New Jersey is 7.66 square miles.
Selling a house starts with a purchase agreement between the buyer and seller. The Official residential purchase agreement for New Jersey can be found on each states realtor board page.
The official site for New Jersey can be found here, New Jersey.
More Information on the demographics for New Jersey can be found on the City Page of New Jersey.
The city of Elizabeth…
Elizabeth is based out of Union County.
The official site for Elizabeth can be found here, Elizabeth.
More Information on the demographics for Elizabeth can be found on the City Page of Elizabeth.
Elizabeth is in the following zipcodes: 07208, 07202, 07201, 07206, 07207
Elizabeth is located at 40.6655 latitude and -74.1918 longitude.
Other cities in Union County we buy in are the following: Linden, Westfield, Plainfield